A pool noodle is a cylindrical piece of polyethylene foam, sometimes hollow. Pool noodles are used by people of all ages while swimming and it is very fun for kids in swimming. Pool noodles are extremely useful for DIY projects and creative solutions for daily life problems. In this article, I will describe "How to use pool noodles?"
Pool noodles for Swimming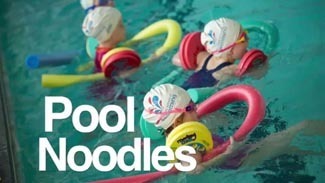 Pool noodles float very well. A single noodle can keep an adult person above water without him or her doing any arm or leg movements. It really helps with learning swimming. The pool noodle is also used for people who find swimming very hard and difficult.
If you want to learn tread water, scull water, then put it under one armpit, around the back then under the other armpit so you can float in a vertical position.
On the other hand, if you practice flutter kick or the breast-stroke kick, then place a pool noodle across your chest and under the armpits to floating in a horizontal position.
For practicing scissor kicks and sidestrokes place a swimming noodle under the lower armpit while floating in the horizontal side position.
How to use Pool Noodles as a bed rails
Though the main purpose of a pool noodle is swimming related, it can be used as a bed rail for kids. Children usually stay in their crib in the first stage of their life. And then, when you first put them in a mattress, it is very difficult to keep them from falling from bed. Especially during night time.
If you have two or three years' children, then you probably know the feeling of calming and lull a child in the middle of the night after a hard day.
For that, pool noodles can be used as bed rail to barricade your little kid. It prevents falling from bed and getting injuries.
Put at least 2-3 pool noodles and tape them together. Make three more like that. Cut the noodles according to your demanding size (two for length and two for wide). Then taped the 4 pool noodle bundles in a rectangular shape. It will prevent your child from falling from bed at night time.
If your mattress sheets are loose or your child moves around a lot at the night, you may cut one side of the noodle off to give it a flat side so your child can come off from the bed and get up on it.
Pool noodles as baby proof
Babies are always at something. They just move around all over the house. Pool noodles can also help there too. They can prevent your baby from getting hurt and injury from the furniture.
If your baby moves around too much in every corner of your house, it is sometimes very hard to monitor them. If this your problem them pool noodles are probably the best option for a solution.
Get some pool noodles and tape them in the sharp edges and corners of your house's furniture and things. Especially where your child loves to play. Cover the legs of the chair, table, and sofa of the area. You might need to cut the pool noodle in half or slice one side to the core as required. And that's how to use pool noodles to baby proof.
Pool Noodle in the playground
Pool noodles can help a lot in the playground areas, we can see a lot of metal playing equipment like slider, swing, etc. If you see closely there are always some little injuries and minor accidents happen in the playground.
A major part of the injuries happened to children by sharp edges or broken parts. Pools noodles can be simply cut in tiny pieces and install on the sharp areas. It can also use in slider where child hit grounds or swing where swing has the possibility to hit something.
A pool noodle as a wreath
The pool noodle is very useful in such many ways. It can also be used for making a wreath for decoration. But how to make a wreath using a pool noodle? Well, it is very much easy and simple.
At first, take one or more (if you want a bigger wreath) and tape them. Then make a round shape by gluing or tape the up and the bottom of it. Then just take a glue gun or simple glue and add whatever decoration you want to add on it.
Just make sure the pool noodle covers perfectly by the decoration because it looks odd sometime to have a glance of pool noodles on a wreath.
How to use pool noodle for a dog cone
Pool noodles can also be used as a dog cone. It is very simple to make, decorative and way cheaper. If you love your pet, then try it.
Just make tiny pieces of a pool noodle and then put them in a rope or just in your pet's collar. It looks very decorative and it may make life easier or more fun for you and your pup too.
Bumpers for Doors
If you have a door in your house which sometimes swings closed by itself, then often your pets or little kid may end up locking themselves inside, which means you have to get up and let them out. That can be very awful sometimes.
Then how to use pool noodles for that? Simple, just take a small piece of a pool noodle, cut halfway through its length, and slide it through the edge of the door. This will prevent the door from closing all the way and won't lock itself. then and your pets or kids won't get stuck inside.
These are just a few of many ideas. There are endless possibilities of using a pool noodle.
FAQ about Pool Noodle
Q: Are pool noodle harmful?
A: They are not that much harmful at all. But since pool noodles are made of PVC PVC (polyvinyl chloride), it is not good for the environment and pool. So please try to recycle it.
Q: How good pool noodle floats? how much weight will a pool noodle float?
A: Though the maximum floating capacity of a pool noodle is varied by its size and materials, but it can easily hold up a full-grown adult person very easily in the water.
Q: Is Pool noodles are safe for kids in the water?
A: Yes, pool noodles are absolutely safe for your kids in the water. Just make sure your kids know the proper ways of using it.
Q: How much a pool noodle cost?
A: Do you know how much are pool noodles? It starts at 0.5 dollars and goes up to 10 dollars per piece. You can find it online shops and markets very easily.
Q: Is pool noodles are enough good for house decoration?
A: Absolutely. Infect it is more used for decoration than swimming these days. It comes in various colors and design which makes them appropriate for house and event decorations.
Conclusion
If you have some pool noodles lying around, try some DIY projects. They may make life easier or more fun for your day to day life. They are quite durable. They come in various color which makes them attractive to children. Besides, pool noodles can take a lot of abuse. You will fall in love with them if you try them.