Have you ever felt uncomfortable or struggled with your pillow while sleeping simply because your pillow did not provide the support that you need? An uncomfortable pillow can easily result in a sleepless night and annoying neck pain the next day. The good news is that, with the Mediflow Original Waterbase Pillow, you can solve this problem.
As suggested by the name, this waterbase pillow has water as its bottom layer. The combination of a soft fiber top layer and a water bottom layer provides a nice support. The pillow is made with all hypoallergenic materials.
Mediflow Waterbase Pillow Reviews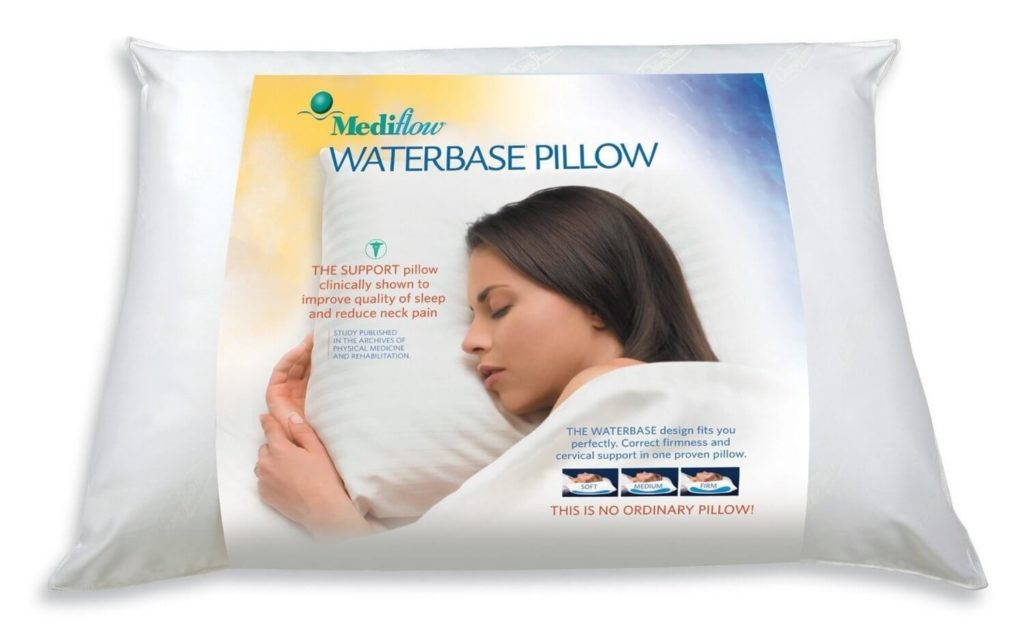 Features of Mediflow Pillow
Top layer made of soft hypoallergenic polyester filling
Fluffy fiber-filled pillow even without filling the water compartment
Pillow firms up when water is added
Pillow firmness can be adjusted by the quantity of water to meet your preferences
Easy-to-follow filling instructions included
Versions available: feather or fiber
Equipped with screw-in funnel
You can use a mediflow waterbase pillow for neck pain
With the Mediflow Original Waterbase Pillow, you can now say goodbye to waking up in the middle of the night feeling because your pillow is uncomfortable. The pillow's soft material on its top layer along with water as the bottom layer provides excellent support to the neck and head. With the water-based, when you roll from one side to the other, the pillow adjusts with you which means you do not have to wake up to shift your pillow. Regardless of the size of your bed, the size and design of this pillow will work well.
Pros
Can be adjusted easily in both firmness and height in order to perfectly suit your comfort level and body size
Machine washable
Uses a standard pillowcase
Easy to fill the water bladder with the screw-in funnel
No need to refill on a regular basis
Cons
Pillow can weigh as much as 16.5 pounds when completely filled
May be difficult to put in a pillow case
Mediflow Waterbase Pillow vs Deluxe Water Pillow
In recent years, waterbase pillows have gained in popularity. As a result, several new brands have entered the market. This works to your benefit because you have more choices. The best thing that you can do is to take into consideration various available options in order to make a well-informed decision.
One of the Mediflow Original Waterbase pillow's competitors is the Premium Water Pillow by Chiroflow. This pillow is designed to offer good support, comfort, and relief from back and neck pain. It can be filled with straight tap water, there is no need to add chemicals. The water is the base of the pillow and is top layer is made of hypoallergenic polyester fiber for a luxurious sleep.
Another option to consider is the Deluxe Water Pillow. It has a removable water chamber and a trapezoid shape designed for good support and neck pain relief. Customers are often pleased with the level of support and comfort of the Deluxe Water Pillow.
In reviews of both the Premium Water Pillow by Chiroflow and the Deluxe Water Pillow, there is one common complaint. Customers are not satisfied with the pillows' durability. On the other hand, the Mediflow Original Waterbase Pillow surpasses reviewers' expectations when it comes to durability.
Conclusion
Now, you can say goodbye to sleepless nights, painful neck and shoulders, and other issues related to the use of uncomfortable pillows. With its hypoallergenic polyester fiber material, you can be assured that you will have a perfect pillow under your head at night. Since it is completely adjustable, the level of firmness is completely up to you. All you have to do is to adjust the water level, taking into consideration your own preferences when it comes to the level of support that you are looking for.
Hope you would like our review about Mediflow Waterbase Pillow. If you need more information or feel it helpful know us by commenting.