Human beings can survive without many things. However, sleep is one thing that we can never live without. Without proper rest, our bodies are not able to function as expected. With the conditions that we are living in these days, a lot of people suffer the consequences of lack of good sleep. A lot of people ignore this need, and as a result, suffer from the consequences.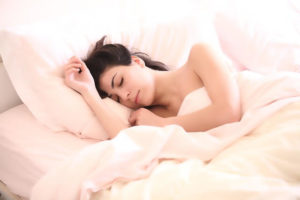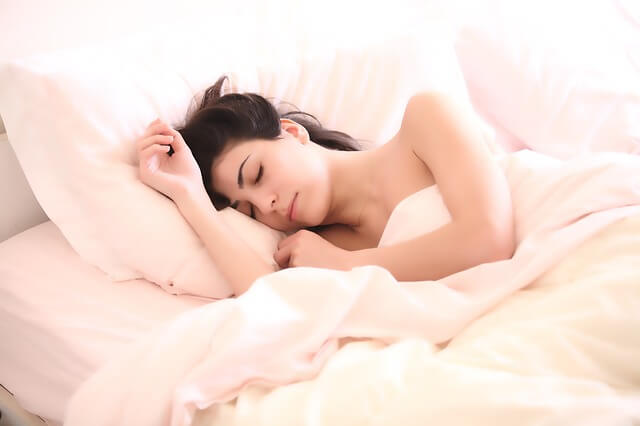 In addition to the proper amount of sleep, it is also important to get good quality sleep. One factor that can make sure you have a good night's sleep is the type of pillow that you use. Unfortunately, pillows are not one-size-fits-all. Therefore, the very first thing that you need to do is identify the type of sleeper that you are.
If you are a side sleeper, you may often find yourself facing migraines, shoulder and neck pain, sneezing, arm numbness, and overall discomfort. When purchasing a pillow, it is very important to consider your sleep position because you may need to adjust it as well.
What Makes a Pillow best for Side Sleepers?
Sleeping on your side is actually a good position since the spine is supported in its most natural position, that is, as a curve. However, there is also a drawback to this position. For example, you are working against the natural law of gravity. As a result, the skin sags on the side, and this can cause wrinkles and bad blood circulation within the arms and shoulders.
However, with a good pillow under your head, you may feel comfortable regardless of your preferred sleeping position. The best pillow types for side sleepers are those that generally offer a firm support for your head, shoulders, and neck. This is so that these body parts do not get strained while you are sleeping.
In order to make the process of purchasing the right pillow easier for you, let's take a look at some of the best available options for side sleepers.
Best Pillows for Neck Pain Reviews
Comfy Sleep Buckwheat Pillow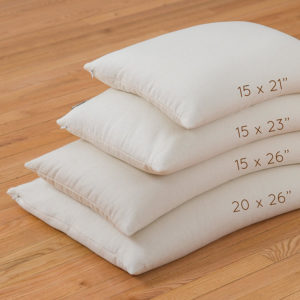 As suggested by the name, this pillow is filled with natural buckwheat hulls. The nature of the hulls means that they are very firm, and they are able to provide support without collapsing despite the weight of your head. If you are also bothered by the temperature of your pillow while you are sleeping, this pillow is a great choice since it does not retain your body heat. It can maintain a temperature which is perfect for sleep.
Pros
Designed to fit your head and neck
Offers firm support
Provides plenty of ventilation
Durable
Breathable properties keep it dry from sweat
Allergy-free
Cons
Some users claim that the pillow is too firm
The hulls produce a crunching noise
The volume may decrease over time
Summary
Customers who have used the Comfy Sleep Buckwheat Pillow agree to that it is a great option for side sleepers. The buckwheat hulls are of quality material. The good thing is that despite the possibility of the volume decreasing over time, most pillows come with extra hulls that you can add to the pillow later.
Mediflow Original Waterbase Pillow- the Best pillow for reducing neck pain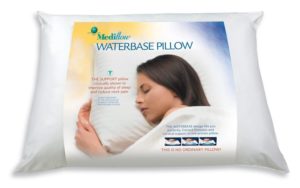 This pillow is a good solution for side sleepers. It uses water as filling, providing support and giving you the comfort that you need throughout the night. All of the materials used are anti-allergic, meaning that you do not have to worry about potential rashes or other allergy-related problems when you use it. With this pillow, you no longer have to worry about waking up feeling uncomfortable because the material is soft, allowing you to easily roll from side to side, especially if you are a side sleeper.
Pros
No need for regular refilling
Easy to fill with water via its screw-in funnel
Machine washable
Can be adjusted in terms of thickness and firmness
Uses standard pillowcases
Cons
Maybe challenging to put the pillowcase on
Dense in weight
Summary
This pillow is perfect if comfort is what you are searching for. You can also customize your comfort by adjusting the water level. This pillow is considered at the high end of its class. As a matter of fact, it is also among the most popular and the strongest. Now you no longer have to deal with neck pain the moment you wake up in the morning.
Beyond Down Gel Fiber Side Sleeper Pillow – the best pillow for side sleepers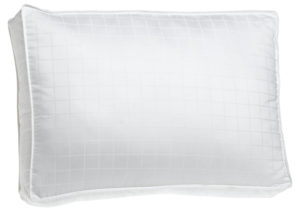 This pillow is designed particularly for people who sleep on their side. This pillow can provide good support and comfort with its synthetic filling. While most side sleepers are comfortable with their chosen position while sleeping, it may also result in some problems. To avoid neck pain upon waking in the morning, the Beyond Down Gel Fiber Side Sleeper Pillow is a great option. The materials used in this product provide the support minus potential allergic reactions. The pillows are filled with gel fibers, providing necessary support similar to that of a down pillow.
Pros
Extra support for the neck
Plush brick design
Great for side sleepers
Machine washable
Hypoallergenic
Soft without yielding
Cons
Not completely durable
Often lacks support
Summary
The Beyond Down Gel Fiber Side Sleeper Pillow has been particularly designed in order to keep its overall shape with a smooth and luxurious feel. In fact, it has a 300 thread count and a 100 percent cotton cover. It is filled with micro denier gel which contributes to its overall comfort. These small fiber beads are shock absorbent and are more comfortable than other types of filling materials, such as shell and bean. This pillow easily conforms to the shape of your head and neck and adjusts with your movements.
Tri-Core Cervical Pillow with Standard Support- Best pain reducing pillow
The Tri-Core Cervical Pillow with Standard Support is a great choice for side sleepers and even for those who sleep on their back. It prevents neck pain in the morning by providing extra support to the neck and shoulders. What makes this pillow stand out from its competitors is the fact that it comes with a trapezoid center which gently cradles your head while providing your neck with solid support. It also has side lobes for taller people. As a matter of fact, even those who are considered plus-size can benefit from this design. For all of these reasons, this pillow is recommended by chiropractors and other medical professionals.
Pros
Solid construction
Multiple positions
Highly recommended by chiropractors
Trapezoidal center
Affordable
Top grade quality
Cons
Expensive
Either too firm or too large for some customers
Summary
This pillow is perfect even for side sleepers of different sizes. In fact, its side lobes can conform to different users. The Tri-Core Cervical Pillow with Standard Support is another great option. Aside from a comfortable sleep, you can also maintain spinal alignment while you are sleeping.
Sleep Better Iso-Cool Memory Foam Pillow- Best side sleepers pillow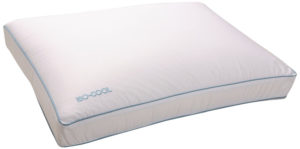 The Sleep Better Iso-Cool Memory Foam Pillow can easily offer you the much-needed support you need to enjoy your sleep. It is filled with beads that can help to regulate your body temperature and has a plush gusset design that can help maximize relaxation. Aside from the fact that it has been primarily designed for side sleepers, it also is equipped with a cooling effect, thanks to the use of PCM beads.
Pros
Not too firm
Durable
Designed to provide balance
Does not sink despite your head weight
15-year warranty
Well worth the investment
Perfect for side sleepers
Temperature balanced
Cons
Expensive
Heavy and thick
Smells funny when first out of the package
Summary
When it comes to comfort for various side sleepers, the Sleep Better Iso-Cool Memory Foam Pillow is one of the best options. With its cooling effect, you can also have a cool night's sleep, thanks to its PCM beads. These beads are capable of sensing both cool and warm body temperature. You can certainly expect a restful night's sleep after a full day.
Conclusion
Now that you know what you can expect from different types of pillows that are currently available on the market, there are a few other things to consider. Are you more concerned with comfort and firmness? Or does price matter more?
There are a lot of stores, both online and brick and mortar, which claim to offer the best products while in reality, they may not meet your personal needs. This means you must be sure that your chosen pillow will meet your personal style, needs, and preferences.
For instance, if you are looking for the best option without compromising your budget, you might choose the Beyond Down Gel Fiber Side Sleeper Pillow, as it is the most affordable on the list, yet comes with features that can support you well. On the other hand, if quality and features are on top priority, the Comfy Sleep Buckwheat Pillow is considered the best pick among several chiropractors. It is also the only one which uses organic materials as filling.
If you are a side sleeper and you choose the wrong kind of pillow, you may end up wasting your money on something that cannot help you. It is now time for you to consider all your options. Why not sit down and list all of the features that you want in a pillow and start from there. Keep in mind that your needs may be very different from that of another person, so it is very important to consider what you really need when choosing the best pillow.