Who doesn't want to tone up the body in a faster method? Sometimes intense workout doesn't seem to bring optimal results as expected. If you are giving too much effort to burn the extra fat from your body, a weighted vest can help you with this regard.
Finding a unisex fitness vest isn't easy for women, as they require specially designed vests to fit their form. Besides, comfort ability and support are also matters of concern.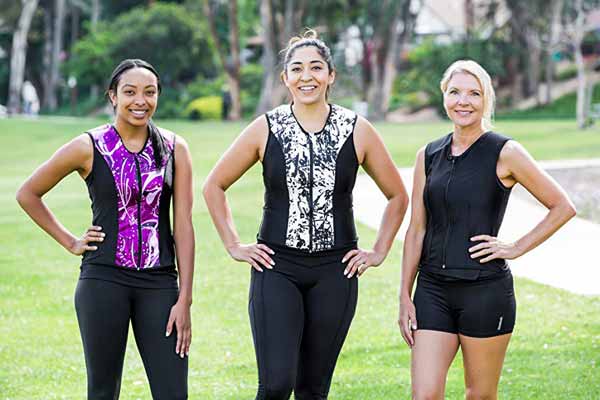 To make things easy for you, we have made this list of the best weighted vest for women that are specially designed for various physical and outdoor activities, including intense workouts while providing great value for your money.
7 Best Women's Weighted Vest
We selected the products considering unique designs that fit women, provide support, as well as comfortability.
1. ZFOsports 30LBS Women Adjustable Weighted Vest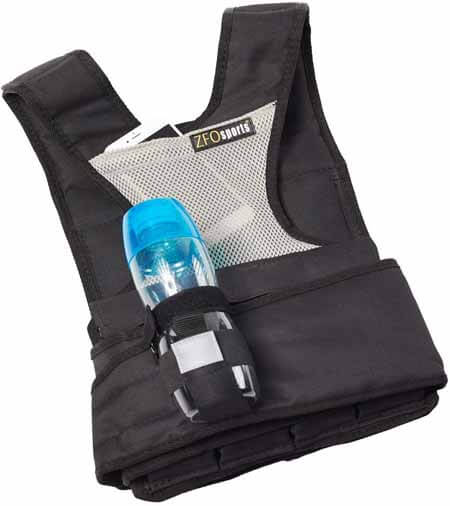 This specially designed fitness vest from ZFOsports can make your workout as well as other physical activities more effective at shaping your body.
If you are looking for a vest that can weigh more loads than any conventional ones, this one has great service to offer. The vest can carry up to 30lbs of load to make your workouts more efficient.
Apart from offering such amounts of capacity, the vest distributes overall weights equally that you put. Weights are located both in the back and the front side of the vest so that you don't feel uncomfortable while wearing it.
The vest is designed to make you breathe easily, whether you are walking, running, or doing intense workouts. You can carry your smartphone or music devices or other small things in the front-facing mesh chest pocket, and the Velcro belt carries your water bottle around the waist, which is a very convenient feature to have.
ZFOsports Pros
30lbs of weight
Mesh chest pocket around the chest and Velcro belt around the waist
Adjustable straps with shoulder straps
Secure and snug fit
ZFOsports Cons
Doesn't fit shorter women
Non-padded straps
2. RUNFast/Max Pro Weighted Vest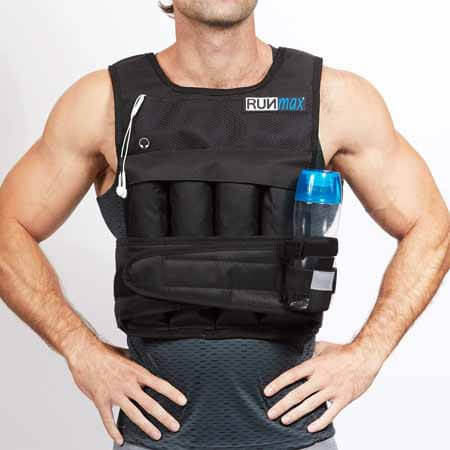 This unisex fitness vest offers great features as well as comfortability for both men and women. If both you and your husband or any other male person in the family care about making their workouts more effective and efficient, we highly recommend you to get this one.
When it comes to how much loads you can put on it, RUNmax has to offer multiple options to choose from. The vest is available at 12lbs to 60lbs variants. You can add weights or remove them at the time of workouts without much hassle.
There is a dedicated pocket for holding the phone as well as keys, music devices, etc. and a water bottle holder around the waist belt for convenience. The materials of the vest seem quite durable. You will be able to use it for years easily.
Not all vests come with padded shoulder straps. Its padded shoulder straps will make you feel comfortable regardless of the loads you put on it. The pockets located on both the front and back sides ensure equal weight distribution. There will be no straining issue whatsoever.
Its features, comfortability, and durability make it an ideal women training vest that you can buy.
RUNFast Pros
Padded shoulder straps
Durable construction
Equal weight distribution
Dedicated pocket and water bottle holder
RUNFast Cons
The shoulder pad isn't of good quality
3. CROSS101 Adjustable Camouflage Weighted Vest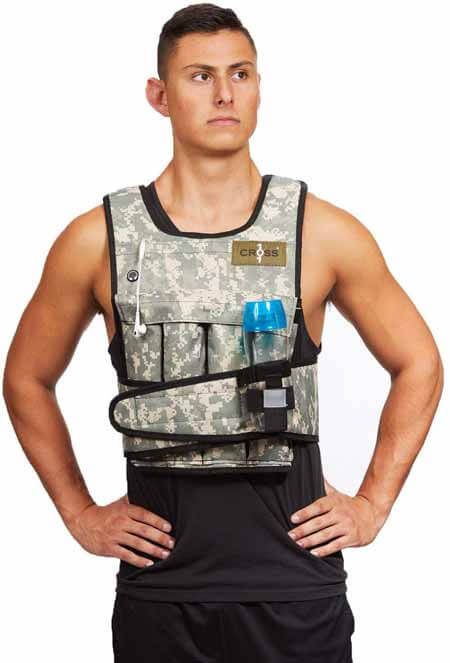 For those who prefer camouflage vests, this one might be perfect for them. This vest from Cross101 offers 8 different options to choose from, which range from 20lbs to 80lbs. There are included weights in every item. You can remove the loads in all models, as well.
It comes in only one size. This eye-catching unisex weighted vest will fit most men and women without much difficulty. No matter whether you use it for walking, or workouts, this vest will not bounce around. As it fits snug, there will be no issue when you perform pull-ups and push-ups as well.
If you are looking for one to accompany you during intense running sessions, this might not be the best one to get. However, you can jug wearing the vest without any issue. The vest greatly enhances intensive workout experiences. It's an ideal weight training vest for women without a doubt.
In case you previously used this type of vest, you will surely feel the difference. The vest is very comfortable to wear.
CROSS101 Pros
Camouflage design
Durable material
Feels comfortable and well-secure
Various weight options
CROSS101 Cons
4. GoFit Padded Adjustable Weighted Vest – Resistance Training
Best quality weighted vests are made of premium material to give comfort to the users. This vest from GoFit is one of those vests. It features neoprene padding that ensures you feel comfortable while wearing the vest.
Although it only comes in one size, the size fits very securely in most people. Apart from that, GoFit vest is adjustable, so you have the option to adjust it according to your body shape and form.
The prior reason why people get a fitness vest is building muscle strength. With this one, you will be able to maximize your workouts like a boss and end up having strong muscle.
For adjustable weight resistance, there are form-fitting weight bags in this padded vest. The pockets are inside the vest. So, the intensity of your workout or running will not cause anything to fall. There are 11 pockets on the front and 11 more pockets on the back to distribute the loads evenly.
You can also remove all weights from pockets and add them easily. GoFit comes with 3 different options to choose from. Depending on your intensity of exercise, you need to go for the most suitable one.
GoFit Pros
Neoprene padding material
One size to fit all
Pockets are evenly distributed inside the padding
Comes with sandbags
GoFit Cons
Thinner individuals might find it bulky
Looks more like a bullet-proof vest
5. CAP Barbell Women's Weighted Vest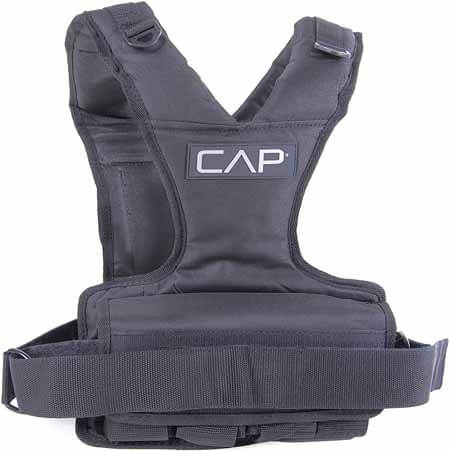 Design-wise, this vest from CAP Barbell is one of the most attractive vests on the list. It ensures the utmost comfort regardless of your workout activity.
Some of the key features of fitness vests are the waist belt and shoulder straps. Thankfully, this one features an adjustable Velcro waist belt as well as very comfortable padded straps for shoulders. Without a doubt, the vest will securely fit your body.
It's ideal for additional resistance for your bodyweight training sessions. There are hooks included with the vest, which is a very convenient feature to have. The pockets are filled with iron ore fines. You have the option to remove or add weights for convenience.
If you prefer to walk or run during night time, the reflective strips will provide you easy visibility for safety. It's made of machine-washable reinforced polyester and nylon. So, you don't have to wear a dirty vest for a long time. Be sure to remove the pockets before washing.
Considering its specifications and features, this one checks everything for being a good quality women's weighted vest for walking.
CAP Barbell Pros
Made of durable reinforced nylon and polyester
Adjustable Velcro belt along
Padded straps
Removable iron ore fine filled pockets
Reflective strips
Machine-washable
CAP Barbell Cons
The hook is rough and can cause damage to clothes
Velcro isn't up to the mark
6. Empower Weighted Fitness Vest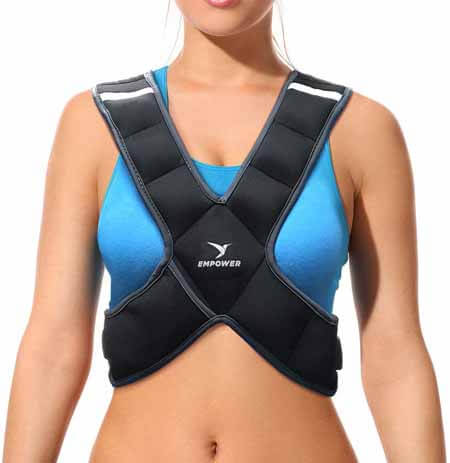 This fitness vest from the brand Empower is specially designed for women who want to make the best out of their daily exercise or workout. The vest stands of being the best women's CrossFit weight vest on our list. Its contoured x-shaped silhouette design is perfect to fit women.
Although the capacity of this vest is about 8lbs, it feels very conventional. The CrossFit vest offers hands-free resistance to day-to-day physical activities such as walking, running, house-hold work, and gardening.
For weights, the sands are sewn in the vest. It ensures equal weight distribution so that you don't feel uncomfortable while doing activities wearing it.
Also, this stretchy Lycra spandex vest features adjustable side straps that fit waist sizes range from 24 to 48 inches. So, you don't need to hesitate to order the vest, wondering whether it will fit your waist or not.
There is a pocket for holding small items such as keys, ID, small phones, and money, which makes it very convenient when you use it for walking and running. If you regularly walk or run during nights, the reflective accents on both sides will make you visible to others easily.
In case your primary concern is walking, it can be the best woman weight vest for walking to meet your needs.
Empower Pros
X-shaped silhouette design
Adjustable side straps for 24 to 48 inches waist
Convenient pocket
Reflective accents
Empower Cons
Straps are not durable for intensive exercises
Not suitable for intense workouts and running
7. Reflective Night Running Vest with Adjustable Strap & Breathable Holes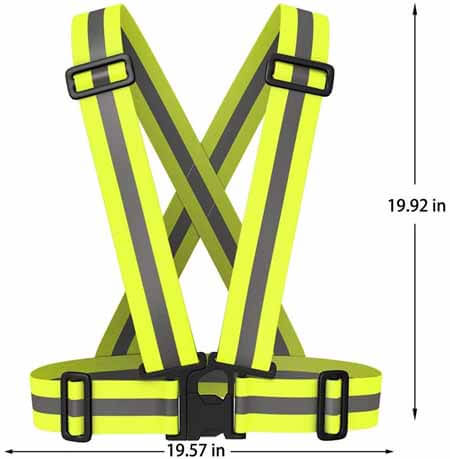 People who don't get time in the morning to exercise and prefer doing it during nights, this reflective night running vest is more appropriate for them.
The vest is made of a high-quality nylon elastic belt along with high-lighting reflective cloth. Its 360o visibility ensures your safety from 500 yards away regardless of your outdoor activities such as walking, running, cycling, jogging, construction, or even traffic work.
Whether you are a tall or short individual, its elastic straps, as well as 4 adjustable buckles, will help the vest fit your body. Also, you will be able to adjust your waistline and shoulders easily. The vest provides a snug fit and doesn't move around when you do intense workouts.
It is thin and fully adjustable, and breathable design fits over any clothing.
Pros
Highly reflective 360o outdoor vest
Fully adjustable waistline and shoulder straps to fit any size
High-quality material
Lightweight and long-lasting
Versatile usage
Cons
Fat people might struggle to fit
Best Women's Weighted Vest for Osteoporosis
People who are suffering from bone loss are prescribed to increase their bone density by doing high-intensity exercise. But, not everyone is able to do so. Therefore, specially made vests for osteoporosis help people by adding more loads to their exercises and increase their bone density.
For those who are looking for the best women's weight vests for osteoporosis, here are a few good quality vests for them.
Mir Air Flow Adjustable Weighted Vest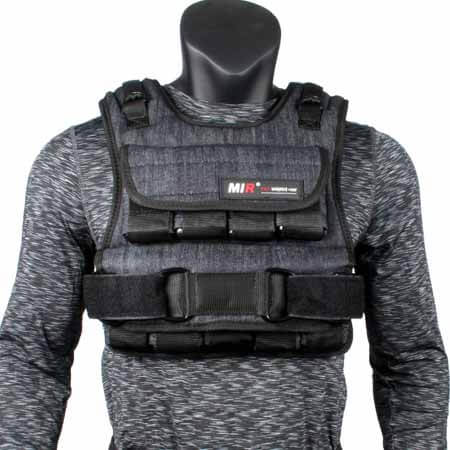 I must admit, the vest has a cool looking appearance, and its design is just perfect for women. If you have osteoporosis, this one will surely help you to improve your bone density.
While most of the fitness vests include sandbags, this adjustable vest features solid iron bags. Each of these metal weights is of 3lbs. Of course, you have the option to remove and add the loads within a few seconds, depending on your preference.
With its adjustable bottom straps, you will be able to fit into the vest regardless of your body size. You might think this one will increase your body heat when you do workouts. But, this isn't the case because the vest is made of soft and comfortable material. Its hybrid material will keep your body cool during workouts.
So, even if you sweat into it, your body will remain cool, which is a huge plus point for those who push their efforts to the limit. As the vest is machine washable, you don't have to face difficulties while washing it.
Mir Vest Pros
Hybrid material ensures good airflow
Adjustable and cool looking design
Metal removable weights
Nicely snug to the body
A great option for osteoporosis
Mir Vest Cons
Adjusting the Velcro straps is a bit difficult as it's in the back
Hyperwear Hyper Vest Pro Unisex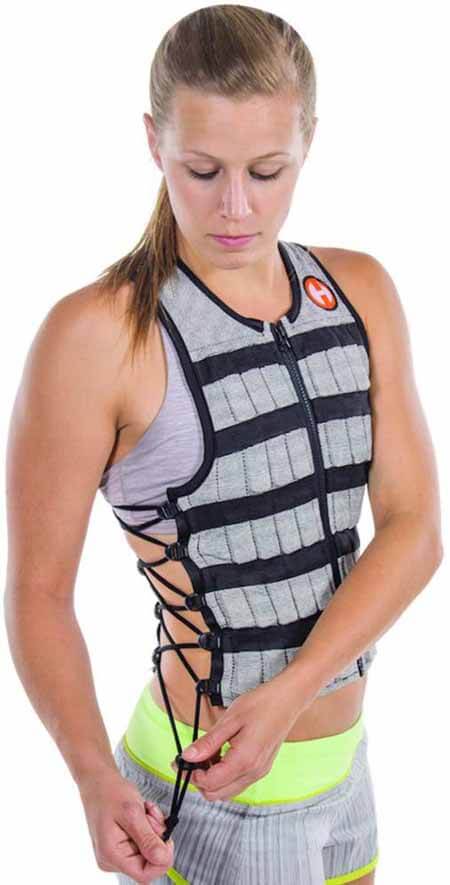 According to many user reviews, this unisex hyper vest checks every aspect to be the best for women's osteoporosis Vest.
You will definitely love the fact that how well this vest fits your figure. The vest features an innovative and exceptional fabric control system that will provide you a very comfortable fit. Although the fabric is more like a compression shirt, it will not restrict your range of motion whatsoever.
Due to its horizontal plane flexes, it allows comfortable chest expansion and makes the weights stay in place during multi-plane activities. You will notice a significant improvement in your bone density if you are suffering from osteoporosis.
The vest comes with preloaded 10lbs of high-density metal bars. Each of the bars weighs 2.25 ounces, and you can add or remove loads according to your workout preference. You can also arrange the loads across the pockets for equal weight distribution.
One of the major selling points of this vest is its breathability. The wicking fabric of the vest is odor-resistant with generous open side panels. There will be enough ventilation. So, you don't have to worry about the odor and sweat.
Also, the adjustable side lacing, along with a customizable profile, provides an exceptionally comfortable fit regardless of the body size.
Pros
Unisex design
Versatile use
Breathable and odor-resistant
Doesn't shift during body movement
Highly adjustable lace
Comes with adjustable 10lbs steel weights
Cons
Durability isn't up to the mark
Considerations while Choosing the Best Weight Training Vest for Women
When it's about getting a fitness vest for women, know that not everyone has the same body figure and preferences. These are some essential factors to consider to get the best girls weighted vest.
Design
Not all the weighted vest you find on amazon, are designed for women. There are some designing criteria when you are about to get one to fit your body comfortably.
These fitness vests go with most women's body figures. These vests come nicely from the shoulders while leaving the chest area uncovered and rest on the waist position. Not every woman feels comfortable to wear full-covering vests.
These vests are the most commonly used ones. Mostly, these vests are unisex that fit both men and women. Full-covering ones are great at equal weight distribution. They also offer extra features such as pockets for mobile, keys, ID, water bottle, and more.
Women with smaller chest will fit such full-covering unisex vests without much trouble.
Weight Capacity
Most fitness vests come with either sandbags or metal bars. Some are adjustable, while some are not.
If you prefer doing more intense workouts, consider getting the one that has more capacity. 30-40 lbs of weight capacity will be good for you. You can even reach for higher consulting with your physician. If you are one of those individuals who want quicker results, then the higher the weight, the better would be for you.
However, if you mostly prefer simple walking, running, jogging, and doing house-hold works, don't put on too many loads. A 20lbs capacity or even less one will do fine for you.
If you buy a 40lbs capacity vest, that doesn't mean you have to workout with 40lbs of loads. An adjustable weight option comes handy here. You can easily add or remove the loads depending on your requirements. This is something that you will not get with the one that offers fixed and limited weights capacity.
Comfort
The comfortability of vests depends on the straps and adjustability. If you prefer a vest that can carry more load during your intense workouts or you are planning to wear the vest for a long time, it's a must to have padded support on the straps.
As far as the adjustability is concerned, the straps, waist belts, and cords should be adjustable so that you perfectly fit the vest. Otherwise, it will be too loose or tight around your chest.
Extra Features
There are dedicated pockets in some weighted vests for holding phones, keys, ID, water bottle, and stuff. You can use the pockets as your storage on-the-go.
Frequently Asked Questions
Here we have some of the most commonly asked queries regarding weighted vests for women:
What is the best weighted vest for Osteoporosis?
Hyperwear Hyper Vest Pro by Unisex will be better for Osteoporosis.
How much weight should I put on?
Depending on your physical fitness and your achievement goals, it varies. But the rule of thumb is to carry 20% of your overall body weight. You can add slightly more. Be sure not to push hard, or there will be consequences.
Can I machine wash my weighted vest?
Not all the vests are machine washable. But, there are some machine washable women's weight vests for running available on amazon. If you want something like that, be sure to read the manufacturer's instructions regarding the issue.
Does a unisex weighted vest fit women's figure properly?
There is no straight cut answer to this question. Most unisex vests are designed to fit both men and women. However, if your figure is a bit different and unique than most other women, you might find it difficult to fit into.
Can I use the vest when I don't workout?
Absolutely yes. However, it would be safer if you join a weight training program before using such a vest.
Does a weighted vest help to lose weight?
Again, it depends on your lifestyle, exercise, and diet. If you can limit your calorie consumption and do more intense workout wearing a weighted vest, it will maximize the outcome.
Final Words
Wearing the best weighted vest for women will make your walking, running, and workouts more intense and make the most out of your efforts and time. Be sure to consider the capacity of the vest as per your goal to get the best results as soon as possible.