A pillow serves two important functions when you are sleeping. First, a good pillow offers physical support for your shoulders, neck, and head in order to make sure that your spine stays aligned, counterbalancing your body parts, and preventing pressure on your spine at the same time.
The second function is to offer comfort, thus allowing you to have a good night's sleep and a comfortable rest. If you are a side sleeper, the Tri-Core Cervical Pillow with Standard Support is a great option. As a matter of fact, it has been designed with people like you in mind.
As a side sleeper, you need extra support for your shoulders and neck so that you do not wake up in pain. This pillow is designed with a trapezoid center that gently cradles your head while offering your neck solid support.
Orthopedic Neck Pillow Reviews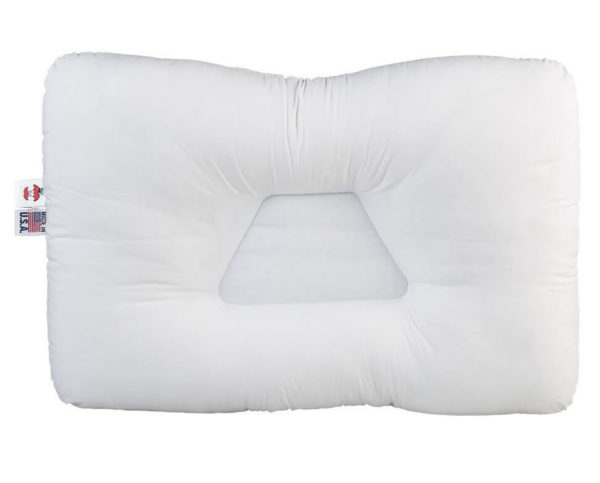 Features
Made of 50 percent cotton and 50 percent polyester
Designed with the needs of side sleepers in mind
Alternative to treatments offering relief to neck and head pain
Fiber based support
Wrinkle free fiber material
Trapezoid-shaped center
24 x 16 inch pillow fits standard pillowcases
100 percent white cotton cover
Premium quality
Three standard sizes
Pros of orthopedic neck support pillow
Supports multiple positions
Solid construction
The trapezoidal center offers therapeutic effects
Endorsed by chiropractors
Top-grade quality materials
Affordable
Cons
Some customers claim that this pillow is either too large or too hard
Some think it is expensive
Verdict
One of the best features of the Tri-Core Cervical Pillow with Standard Support is that it provides comfort and support even to side sleepers of different body sizes. As a matter of fact, it also comes with comfortable side lobes which can perfectly support taller people. Even plus-sized people can take advantage of its durability, thanks to this pillow's fiber springs, offering resiliency while springing back every time they are compressed.
For this reason, this pillow has easily become one of the leading support pillows recommended by chiropractors and medical professionals to alleviate aching backs and stiff necks upon waking up. The pillow may also provide relief to airway blockage in order to help prevent snoring that is common among side sleepers.
Comparison
The good news is that, you also have other options that you can take into consideration in order to make a well-informed decision when choosing a good pillow to meet your needs. One of the options you might consider is the Therapeutica Sleeping Pillow. It incorporates two shapes into a single pillow with various heights for side and back sleeping. Even though this pillow has an odd shape, it can correctly position the neck and head, supporting the neck through the area between the shoulder blades and works really well.
Another option is the Arc4life Cervical Linear Traction Neck Pillow. This pillow has a V-shaped center cavity that cradles your head while gently lifting your shoulders. The neck roll supports your neck. While you are sleeping on your side, the pillow's soft wings keep your head well-positioned at the right height from the mattress relieving strain on your head and shoulders.
If you want the best pillow available, there is no question that the Tri-Core Cervical Pillow with Standard Support is the ideal choice. What makes this pillow standout from its competitors is its unique trapezoid center that gently cradles your head, but the most obvious difference among the three is the price. In fact, the Tri-Core Cervical Pillow with Standard Support is priced at about half the price of these two competitors.
Conclusion
If you are a side or back sleeper and often wake up in the morning with a painful back or stiff neck, there is doubt that the Tri-Core Cervical Pillow with Standard Support is your best pillow choice. While this pillow might be considered cheap based on its price when compared to the other pillow options, this pillow is most definitely not of inferior quality. As a matter of fact, the quality of this therapeutic pillow is as high as any other pillow in its class.
With the kind of support this pillow provides, there is no doubt that it is the most ideal option. With this pillow you can rest assured that you will sleep well and maintain good spinal alignment while you sleep.