As an expert fitness trainer, I was asked to tell which is the best kids weighted vest. How much weight he/she should wear. I researched on weight vests and kids' bearable weight and wrote a review. This will help you to choose the perfect vest for your children.
Weighted vests have increasingly become popular as a proprioceptive input item. The best weighted vest for kids is capable of helping a child develop a sense of self, attain better control of their motor skills and have better focus.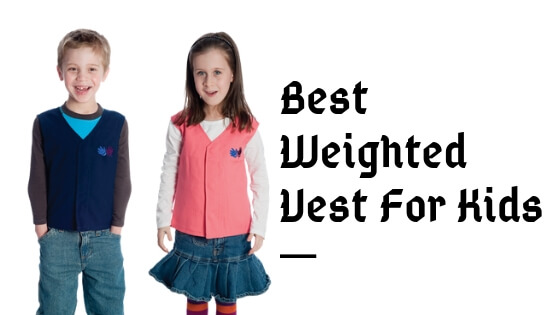 Although commonly bought for kids with social and behavioral disorders like ADHD, weighted vests are ideal for almost any child who has trouble remaining focused in their day to day activities.
Also, weighted vests for children can also be used for strength training purposes. There are many weighted vest brands to choose from. This guide will take you through the top brands available today.
How to choose the best kids weighted vest (Point to consider)
Start with your child's needs
Before investing in a weighted child vest, you'll need first to think about the reason why you believe your child needs one. There's no point in buying your little one a weighted vest just because you think it will look cool on them. These vests are designed to help in a child's development.
So if you believe that the "hug" provided by the vest will help your little one keep calm and remain focused, you can invest in one.
Still on your child's needs, consider his or her body size and how much weight the child can handle. Never buy a vest that's too heavy. It's better to buy a light vest to which you can add more weight. Measure before buying
Many parents often complain that the weighted vest they bought for their kid was either too small or too large. If you're buying the weighted vest online, make sure that you first take your child's chest, shoulders and stomach measurements. Use these measurements when selecting the vest size to purchase.
There are three main features to look at when buying weighted vests for children :
The weight of the vest and if you can increase or decrease the weight.
Whether the vest is adjustable along the shoulders and the trunk to accommodate your child's growing body
The materials used to make the vest ensure that your child remains comfortable when wearing it
Top 5 best weighted vest for your Child
Some best kind of vest are listed below that is suitable for children. They are perfectly chosen only for kids.
Sensory Hugs Deep Pressure Sensory Vest – Small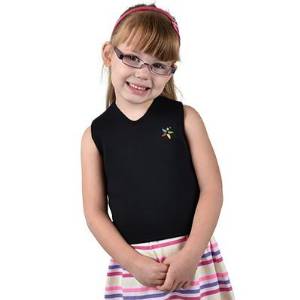 This small kids' weighted vest is made from Airprene. This material consists of rubberized fabric that allows the body to breathe while remaining comfortable. Like other vests, the Sensory Hugs Deep Pressure Sensory Vest – Small is designed for kids with attention disorders by providing proprioceptive input. Its features include Velcro adjustments along the trunk and shoulders for easy adjustment and a weight of 2lb.
Pros
Comfortable, breathable Airprene shell for a comfortable fit
Easy to adjust to snugly fit child's body
Different size options for children available
Affordable compared to most available brands
Cons
Velcro adjustments might wear out with time
Fun and Function's Blue Weighted Compression Vest for kid
This weighted vest from Fun and Function's for kids is specially designed for kids and adults diagnosed with autistic disorders, attention deficiencies or just anyone who wants a big hug. It features a soft neoprene shell which ensures that your little one is comfortable when wearing it. Other features include mesh pockets for adding weights and loop and hook closures for size adjustment. This vest comes in red or blue color options and with a total of 2lb weights.
Pros
Comfortable neoprene shell
Easy to wear and adjust
Attractive design and color options
Several sizes to choose from
Cons
Additional weights need to be purchased separately
RUNFast/Max Pro Weighted Vest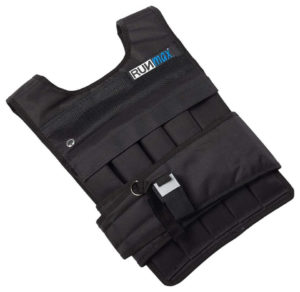 While not exactly a kids weighted vest, the RUNFast/Max Pro Weighted Vest was designed with the athlete in mind. This vest is designed for strength training and running where you might want additional body weight for an intense workout.
Since there are several weight options available, you can choose the lowest weight option (12lbs) for older kids with attention disorders. One feature that stands out with this vest is its one size fits most construction which means no constant adjustments to be made although Velcro adjustments included.
Pros
All weights included with your purchase making it easy to choose the maximum weight you want
Can be used for proprioceptive input as well as workouts
One size fits all design minimizes need for adjustments
Cons
One size fits all design can be a disadvantage for people with smaller or larger upper bodies
Tone Fitness Weighted Vest, 12 lbs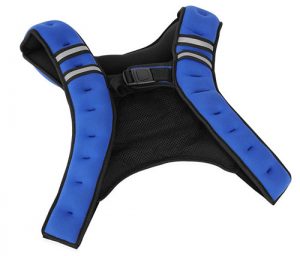 This is another weighted vest that's not particularly designed for kids. It weighs 12lb and is mainly used for workouts. It consists of a neoprene shell that provides a comfortable fit when worn.
This one size fits most weighted vest features a chest strap which comes in handy when adjusting it for a snug fit. Other features that stand out are a small electronics pocket for your iPod and reflective stripes for safety during early morning and late evening runs.
Pros
Useful for a variety of strength training workouts like running and cardio kickboxing
Soft neoprene shells for comfortable fit
Chest strap included for tightening to fit
Included pocket for iPod
Cons
Limited to 12lb weight which cannot be increased
Contain one or more phthalate chemicals which can be harmful
Alternative Of Weighted Vest For Kids-
Children can use ankle weights or wrist weight for running and exercise. It can be a good alternative for Women and kids as they can't bear so much weight of a weight vest.
Ankle / Wrist Weights for Women, Men and Kids
It will be best for kids to do workouts OR play with less weight.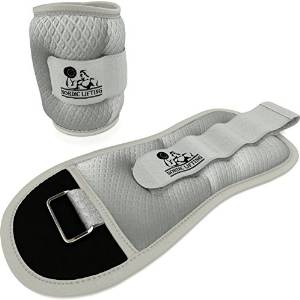 Although not a weighted vest, the ankle/wrist weights are a good alternative to the weighted vest for training. These weights are built into a neoprene shell with adjustable Velcro straps.
The weights can be converted from wrist to ankle weights and vice versa. In addition to the weights, you'll also receive a carrying bag.
Pros
Perfect for hand and leg strength training
Versatile product converts to either ankle weight or wrist weight
Comfortable neoprene shell
1-year manufacturer warranty included
Best alternative of heavy weighted vest for kids.
Cons
2lb weight cannot be increased or decreased without altering the product which will void warranty.
Final Words
This post is about Best kids weighted vest. These, listed above, are the top Child's weighted vests that can be used by both kids and adults for proprioceptive input or strength training. Before choosing which brand to invest in, it's recommended that you first consider your child's needs and how the vest will help him or her.
Besides, consider comparing different price offers if you want the best price available.
Related Articles: