Nobody loves to practice yoga on a dirty odor mat. The rancidity of the mat is more annoying. That's why people use fragrant mat cleaners. At present, different companies are providing different products. But most of the product has some major flaws.
Some are harmful to the yoga mats, some for the environment, or some for your skin. Considering these factors I have researched a lot and made a list of 7 best yoga mat cleaners. Today, I will share my list with you with proper details. So, further wasting any more time, go the main point.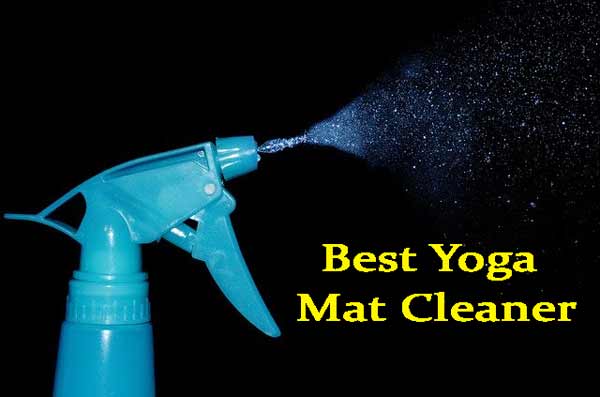 Top 7 Yoga Mat Cleaners Spray
Here is a short list for best natural yoga mat cleaner spray-
Best overall yoga mat cleaner: Manduka Organic Yoga Mat Cleaner
Best Natural yoga mat Cleaner: ASUTRA Natural & Organic Yoga Mat Cleaner
Below there you can find top 7 products. You can find your best ones that fits your requirement.
1. Manduka Organic Yoga Mat Cleaner

Get introduced with a deep cleaning mat washer from Manduka. This is a cleaning solution that is 100% safe for kids and the environment.
Cleaning a yoga mat is very simple with this solution. It contains water, essential oil, surfactant (vegetable oil-based), and chelating agents. You can easily remove any kind of stain and grime from the mat.
I love the smell of this cleaner. It comes with a tranquil lavender fragrance. You can use it for deep cleaning and daily cleaning. Thanks to the manufacturer for the recycling wash bottles.
Key Features
The solution is100% safe for your mat.
Very easy to use.
Comes with the recycling bottle.
Must love the lavender fragrance of the solution.
2. Saucha Natural Yoga Mat Cleaner Spray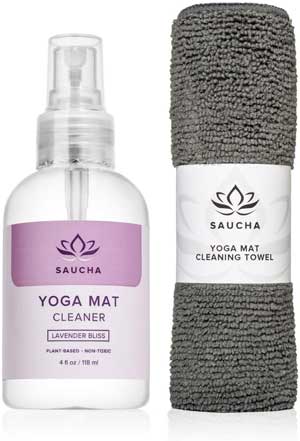 Finding the best natural yoga mat cleaner everywhere? Here comes the best cleaner spray from Saucha. This is a cleaner spray with a gentle formula and a lavender smell. It wipes out the bacterias and removes the odors.
When you do yoga on your mat regularly, it may get sweaty, dirty, and sometimes oily. This is not a healthy position for your yoga. Then this yoga mat cleaner can be your hygienic and disinfectant friend.
The product is made in California. This comes in a very convenient spray bottle, not a big heavy anything. You can store it in your gym locker and while traveling, it will suit in your bag easily!
Key Features
The cleaner is made with tea tree oil and lavender essential oil.
It will last at least for one month.
This spray dries very quickly, don't worry to get slipped on the floor.
3. LUNA Yoga Mat Cleaner Spray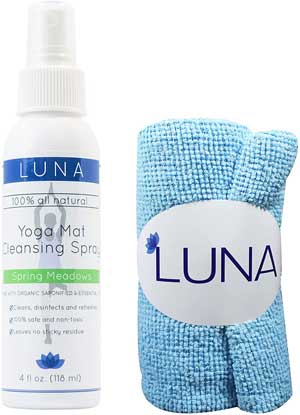 Presenting an excellent mat cleaner for yoga from LUNA. This cleaner has a very gentle and blissful smell that will make your mood refresh for yoga!
The mat cleaner is made with 100% natural ingredients. It is very effective to kill the germs and bacterias which cause bad odors in the mat. Organic oil of coconut, olive, and jojoba mixed with different essential oils, gives the perfect smell and cleaning power.
The spray is 100% natural and 100% alcohol-free. So, it has no malignant ingredients that harm your body or environment.
Key Features
This cleaner spray is made in the USA with experienced hands.
The spray is 100% alcohol-free, keeps the mat fresh, odor-free, disinfected, and dust-free and eco-friendly items indeed.
Luna cleaner spray is a great use for all kinds of yoga mats. You can clean any kind of yoga equipment with this cleaner.
4. ASUTRA Natural and Organic Yoga Mat Cleaner
Best Natural yoga mat Cleaner
If you are hunting for the top-rated yoga mat cleaner spray, then here is a solution from ASUTRA. This spray is made in the USA with love and cares for each kind of mat.
This solution is 100% safe, with no artificial colors, alcohol, detergents, or paraben. Some of you tried to wash your mat with soap or detergents only, but this results in the damage of mats and germs, bacteria are still there. So, the experienced makers use natural castile soap with tea tree essential oil, which is called the most powerful oil to wipe out the germs naturally.
The most interesting and important information about this item is, this cleaner spray is not tested on innocent animals. It will give you both enjoyment of aromatherapy with yoga!
Key Features
The product is 100% organic, free from bleach, parabens, or any harmful chemicals.
This yoga mat spray is perfect for all kinds of mats, it is tested on thousand mats.
The spray vanishes quickly with the nasty particles which make the mat dirty. No slippery feelings!
Comes with a wiping towel.
5. Aurorae Yoga Mat Wash Cleaner
Now time to meet with a fantastic mat cleaner spray from Aurorae. This item has 4 different amazing scents, you can choose your favorite fragrance. The spray will remove all kinds of impurities and dirt from the mat.
The solution is blended with essential oils, organic energetic bergamot, and lemongrass oil. This product efficiently cleans, disinfects the yoga mat as well as enhance your mat's life!
Make sure that your mat is clean before using this solution. Just spray the cleaner on the mat, let it soak for a couple of minutes. Then wipe it or dry in the air. Done!
Key Features
The solution dissolves very quickly and doesn't leave any slippery residues.
This cleaning spray is very easy to use, a convenient small spray bottle with no leak nozzle.
Comes with 4 different fragrances.
6. Mind Over Lather 100% Natural Yoga Mat Cleaning Spray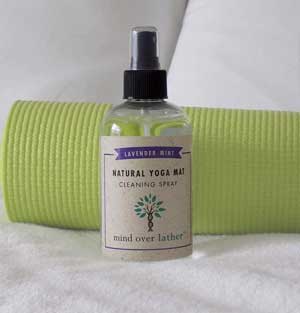 Get introduced with an awesome natural yoga mat cleaner from Mind Over Leather. The product comes with an all-natural fragrance. There is also a nozzle lock that prevents unexpected leakage.
The spray doesn't contain any alcohol and coconut oil. So, there is no chance to slip and dry out the mat. You can use it on any type of mat. The main ingredients of the product are distilled water, essential oil, tea tree, witch hazel, eucalyptus, and others.
The spree can be used for different purposes. It is completely safe and environment-friendly. You can use it as a room or car spray. It also works as a hand sanitizer. You can carry this little bottle in your bag or pocket.
Key Features
Made of non-toxic material.
Usable to everyone, even as an air freshener.
No chance of leakage, easy to carry.
7. Tidy Mat Yoga Mat Cleaner Wipes
Best Yoga Mat Cleaner Wipe
Annoying of a dirty stink yoga mat? Giant Lion has come up with a non-toxic and biodegradable mat cleaner. There are 30 wipes available. You can use them on any type of mats. (Best for the rubber mats)
The cleaner comes with the white lavender fragrance. It is made of all-natural ingredients. (Water, high count bacteria, white lavender fragrance, and natural enzyme). The cleaner takes no time to break-up and absorbs dirt.
The wipes are safe for kids. It is also guaranteed that it won't cause any harm to your mat. Using the wipes are also simple. Just wipe on the mat and dry for half minutes. Flip your yoga mat and again wipe it. Considering all the features, I think it is one of the best biodegradable wipes at the present time.
Key Features
The package contains 30 wipes.
Completely safe for kids.
White lavender fragrance.
Eco-friendly and non-toxic.
FAQ about Yoga Mat Cleaner
Q: Are yoga mat cleaners safe for my yoga mat?

A: A quality yoga mat cleaner is always safe. It won't cause any harm to your mat or dry out the mat. All of my suggested cleaners are safe for any kind of yoga mat.

Q: How can I avoid harmful yoga mat cleaner?

A: Try to avoid mat cleaners that contain coconut oil and alcohol. Alcohol causes harm to the mat. Coconut oil makes it slippy. So there is a chance of unexpected falling.

Q: Are yoga mat cleaner safe for kids?

A: No. There are some cleaners that contain inappropriate chemicals. It can cause harm to both kids and adults. Don't worry about my products. All of the cleaners I recommend are 100% safe. There is no non-toxic. All of them are Eco-friendly.

Q: Can I use yoga mat cleaners as an air freshener?

A: Some of them are usable as an air freshener.
Check out "Mind Over Lather 100% Natural Yoga Mat Cleaning Spray" this product. It comes with a mind-blowing fragrance. You can also use it as an air freshener or hand sanitizer.

Q: What are the main ingredients of a mat cleaner?

A: Different product uses a different formula. But generally, they use water/distilled water, natural fragrance, natural enzymes, etc.
Conclusion
Now, stop thinking about your next mat cleaner. I have made your task easier by suggesting top 7 mat cleaner spray. Now it's your turn to choose one.
There are both wipes and spray cleaner. Select the one you feel comfortable with. I have also discussed the features in detail. You can check out the fragrances reading them. I can assure you, there is no chance to go wrong if you choose one from my list. So, order your product today and have a joyful yoga session.