An exercise ball chair is a beneficial instrument in our regular busy life. It has a huge number of health benefits. Exercise call chairs are also called yoga ball chairs, balance ball chairs, and others. In this article, I will suggest you 7 best yoga ball chairs.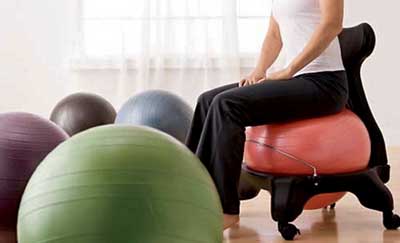 You will find lots of reviews on the internet about the best ergonomic balance ball chair. But how can you trust them? Considering the fact I will also discuss a guide part and FAQs. First, I am requesting to read all of my suggested products. Not all the products are specialists in all the features. There are differences in features among them. Without prolonging the intro, let's jump into the main section.
7 Best Yoga Ball Chairs of Budget 2022
Find some better Yoga Ball Chairs bellow on your budget.
1. Gaiam Classic Balance Ball Chair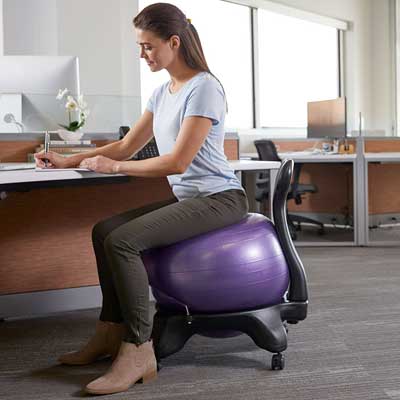 Presenting you the first fitness expert deck chair from our list. The chair comes with a flexible design. It is created by having the suggestion of some health and fitness experts.
The chair is perfect for people of 5 feet to 5 feet 11 inch. No worry about weight capacity. It is capable of holding 300 pounds. There is a back support bar for extra security. I must appreciate the smooth wheeling system. There are 4 wheels for easy transportation. 2 wheels are lockable.
Happy to know that the chair includes some additional equipment. You will get a removable exercise ball (52 cm) and an air pumper. Another useful thing is the instruction paper. The chair also consists of some other useful features.
Key Feature
Get a flexible sitting position.
High load capacity. (Up to 300 pounds)
Additional exercise ball and pumper.
The chair is 2.5 feet tall and 20 inch wide.
Fit to almost all types of desks.
2. Safco Products Zenergy Ball Chair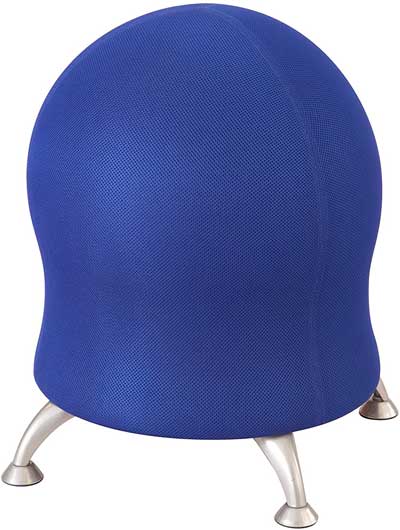 Get introduced with another ball chair from Safco. The chair is appropriate for everyone in your house. The reason behind this support is the adjustable height. You can set it to 23 inch or 20 inch.
There are no wheels available but it is a lightweight chair. As a result, you won't face any problem in transportation. Other noticeable things are skid-resistance and 360° swivel feature.
The chair is designed with a 17.5″ anti-burst exercise ball. The chair has 4 legs made of powder-coated steel. Strong construction lets it carry up to 250 pounds. The most satisfying thing is it is a Greenguard certified yoga chair.
Key Features
Durable construction and comfortable sitting position.
Adjustable to almost everywhere.
Allow assembling in 2 different heights.
The chair exceeds the Greenguard certificate.
Weight: 15 pounds & Weight capacity: 250 pounds
3. Isokinetics Inc. Balance Exercise Ball Chair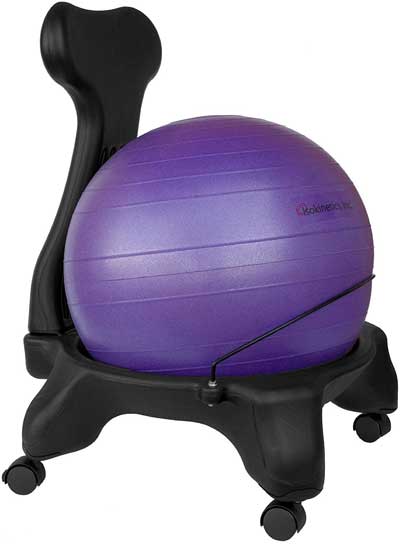 Say hello to this amazing exercise ball chair from Isokinetics. The frame of the chair is made of high-quality plastic. There are also 4 office size wheels available. The backside has also good protection.
The chair comes with a black exercise ball of 52 cm. The thing people love the most is the lower back support. It will remove back pain.
There are 2 different designs, standard and tallboy. Tallboy design has an extra 2-inch height. It is appropriate for people from 5 feet 2 inches to 6 feet 1 inch. The chair can easily carry 200 pounds. Installation of the chair can be a bit tough. But there is also a paper where you will find everything.
Key Features
2 different size available. (Standard, Tall boy)
Exercise call measures 52 cm.
Lockable 4 wheels.
Sturdy Plastic frame will provide long-lasting service.
4. Gaiam Kids Stay-N-Play Children's Balance Ball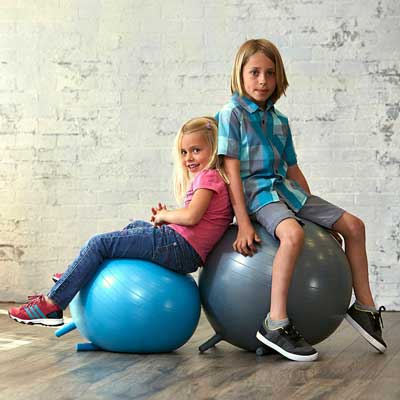 Now it's time for the kids. Gaiam has come up with an excellent balance ball chair for children. The chair suits perfect to any desk and classroom.
The ball comes up with 2 different sizes. 45 cm for 5-8 years old. 52 cm for 8-12 years old. There are 5 soft stabilizers. It makes the chair a stable one.
According to the manufacturer, The chair will help kids in concentrating to study. Truly one can sit hours after hours without feeling boredom. The highly flexible design mainly helps here. It may require re-inflation after the initial inflation. Must follow the inflation instructions.
Key Features
Easy to store.
Lightweight exercise chair.
Comes with 2 sizes.
5 durable stabilizers ensure stability.
5. Vivora Luno – Sitting Ball Chair for Office and Home
Best balance ball chair for office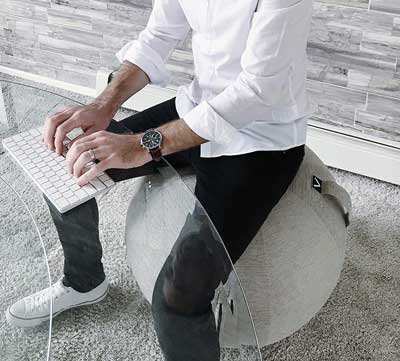 Here comes a universal sitting ball chair from Vivora. The chair is designed considering all the physical benefits of everyone. The pregnant women will get more benefits using this chair.
The chair will be comfortable for people of 6 feet and shorter. The desk measurement recommendation is max 30 inch and min 26 inch.
The ball includes a thick carrying handle. One can easily move it one place to another. The ball can carry up to 400 pounds. One thing you need to do is to inflate the ball. You will find some other noticeable features in this one of the best office ball chairs.
Key Features
Appropriate for home and office.
Load capacity: up to 400 pounds.
Suits to desks from 26″ to 30″
Comes with thick carrying handle.
6. Gaiam Kids Balance Ball Chair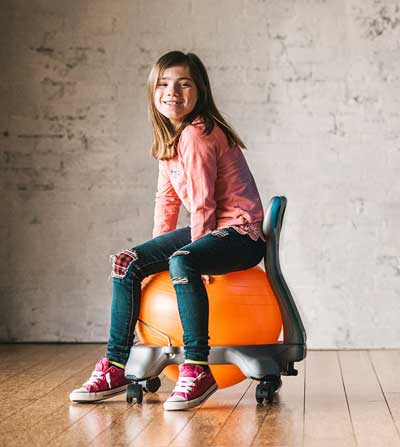 Best Kids Balance Ball
Introducing you with another ball chair for kids from the famous brand Gaiam. The balance chair will increase their concentration. It is appropriate for kids for 42 inch – 51 inch.
The ball can carry 175 pounds. It's enough for carrying a healthy kid. The chair comes with an anti-burst ball of 38 cm.
The chair is 2 feet tall and 20 inch wide. There is a support bar that will reduce back pain. Having 4 easy-glide caster wheels, the chair is easy to move. There is also an air pumper included with the product
Key Features
Comfortable sitting position.
2 lockable wheels and total 4 wheels.
Appropriate for kids of 5-7 years old.
Weight capacity of 175 pounds.
7. Aeromat Ball Chair Deluxe – Black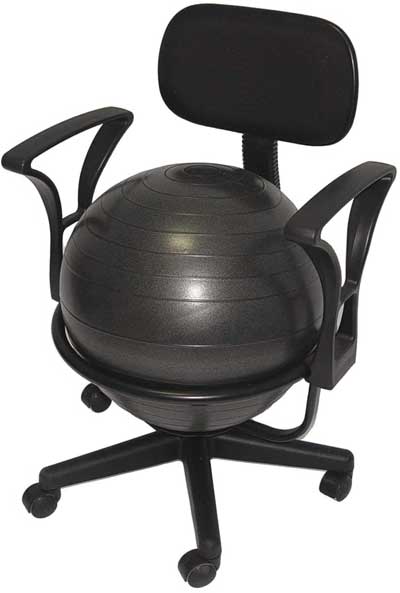 Looking for the best yoga ball chair? This is a great option for you from Aeromat. The ball is designed to reduce unwanted hip and back pain.
The chair consists of 5 wheels where 2 of them are lockable. The chair weighs 20 pounds and a load capacity of 200 pounds. I think it could be a bit higher.
The dimension measures 22 inch x 22 inch x 32 inche. The chair uses PVC to build it. There is no use of latex, metals, or phthalates. Ultimately you must get all necessary features in this balance chair.
Key Features
Product dimension: 22 inch x 22 inch x 32 inch.
Appropriate for everyone.
Made of durable PVC.
5 wheels for easy transportation.
Points to Consider Before Buying Best Ergonomic Balance Ball Chair
As I told before, I am here with a guide for you. Before selecting a yoga ball chair, you get to know every detail of a ball chair. Besides, you need to know your necessity. Now, I will discuss them broadly. So, keep reading.
Adjustable Size
Do you want a chair for adults? Or kid? Or everyone? Well, there are different sizes of chairs available. But the best chairs come up with an adjustable assembly design. There are some chairs which can be adjusted to different heights. Everyone can use them with ease.
Durability
Make an investment before ensuring your profit. Like this buy a chair before ensuring its durability. If you can't use a balanced chair for a long time, it is good for nothing.
Confirm the chair is made of high-quality materials. Also, notice the condition of the exercise ball.
Transportation
You have to move the chair here and there frequently. Make sure you don't face any problem in moving it. I suggest getting a chair having wheels. Most of my recommend chairs come with 4 office size lockable wheels.
Weight Capacity
This factor is only for healthy persons. Every ball chair has a maximum weight limit. If you have a big weight then make sure your chair will carry you easily. Otherwise, there is a chance for an accident.
FAQ about Best Exercise Ball Chair
Q: What are the benefits of a ball chair?

A: There are lots of benefits of a yoga ball chair. It improves circulation and posture, reduces back pain, boosts your energy, burns fat, and more. During office time using this chair is more beneficial. Choose the best office ball chairs from my recommend products.

Q: What is the maximum weight capacity of a ball chair?

A: There is no fixed rating. But maximum yoga chairs are in a limit of 200-300 pounds. Some exceptional chairs can carry up to 400 pounds.

Q: Are wheels essential for yoga chair?

A: No. But it will recommend wheels for ease of use.

Q: What should be the weight of a Ball Chair?

A: No particular limit. But I suggest getting a lightweight chair.

Q: Do I have to buy an additional pumper to inflate the ball?

A: Most of the time you will get it free with the product. If the air pumper is not included then you have to cost a bit more.
Conclusion
The main purpose of the article is to suggest you 7 best yoga ball chair. I had to search a lot in choosing these products. I have shown up all the details and features. Reading them all you must judge them whether they are worthy for buying or not.
Make a list of features you are looking for. Now match them with the recommended product. Hopefully, you will be able to choose the best exercise ball chair for you.