For fitness and health benefits, yoga or exercise is very much important. Nowadays, many people do yoga or exercise in their home or gym using aerial silks. Aerial silks are made of soft fabrics.
These fabrics need to wash after time to time because it's harmful to practice in dirty fabrics. It won't be pleasant to use dirty silk full of sweats, germs, or dust. In this article, I'll particularly talk about how to wash aerial silks and dry them in an easy and effective way.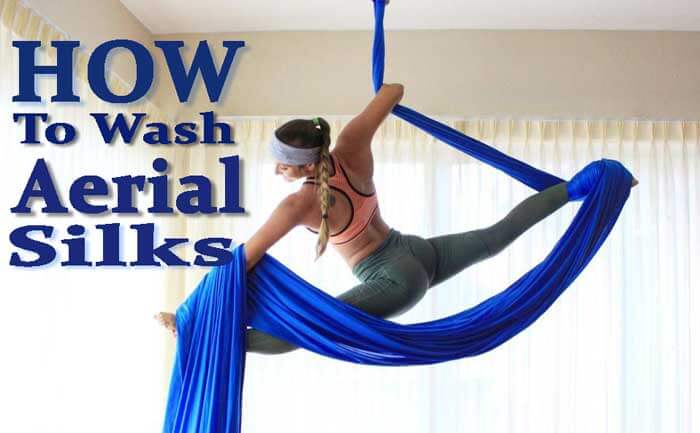 How to Wash Your Aerial Silks?
Estimate Cost : 20 0
Time Needed : 10 minutes
Aerial silks are very soft fabrics which help to keep up all your body weight. So, you should treat this item in a better way. The laziest and easiest way is the fabric freshener scent. Just spray a little bit and wipe, it'll give your fabric an instant clean. But It's temporary.

If you want a long-lasting result, then shower your fabric in a better and hygienic way. You may think that to clean aerial hammock is easy but there are some rules. Here are some tips for how to wash aerial yoga hammock
Step 1: Pull out the knots first

To clean swing silks, the first job is checking the fabrics thoroughly and loosen the tight knots. If you wash your fabric with knots, it might get a tear. You can use a pencil or pen to loosen the knots.

Step 2: Remove the metal items

Before putting the silk in the washing machine, pull out the metal rings. It may damage your washing machine.

Step 3: Wash one silk at one time

Don't tangle while washing several silks at a time. Rather, wash one silk /Fabric at a time to avoid the tangled mess.

Step 4: Use mild detergent

As aerial silks are very delicate fabrics, so you should use mild detergent which is gentle on silk and wool. If the detergent is harsh, it may ruin the fabrics.

Step 5: Avoid Top loading washing machine

Intense spin can damage your aerial silk. So, don't use the top-loading washing machine. You can use a front loading washing machine with a tender cycle. Notable information is, use cold water and low spin speed.
How to Dry Your Aerial Silks?
You may think that washing is done, all done. But NO! The drying of aerial silk has some necessary steps. If you dry the silky fabrics incautiously, it'll smell bad and ruin the yoga hammock. Now I will describe How to dry Aerial Silks. Check out the steps.
Avoid using drier
Don't use the drier to dry the yoga trapeze. The heat can be too strong for the fabrics. Even if the lowest speed is not a good idea.
Don't put it in direct sunlight
Don't hang the aerial hammock in direct sunlight. The UV rays can curtail the silks. Then it might be less durable.
Just hang in indoor
Just put it under your fan with 0 sunlight heat. This is the most natural and efficient way or in a breezy day, hang it outside.
How to Clean Those Metal Things?
I mentioned that, remove the metal accessories from the silk hammock before washing. Now time for those items cleans up. It's very easy to clean the metal items.
Just take a simple microfiber cloth and a little amount of ammonia-free window cleaning spray. This is enough for cleaning the metal rings.
Why you Should Wash Aerial Yoga Swings, Hammocks, and Silks?
Like the other yoga materials, these items should have proper washing. How and why do you clean yoga trapeze? This is the question. I have already discussed how to wash aerial yoga swing. Now, time for reasons to wash yoga trapeze:
While practicing, you must get sweaty. The silk absorbs the sweats and odors of your body. That is very unhygienic and unpleasant to use.
It absorbs bacteria and germs
For being porous fabric, it drags the bacteria and dirt from your body. If you wash it, it will be fresh with no germs.
Crease line attracts dust
Dust particles can settle in the crease line in a few days. If you don't wash it, it might cause allergic problems for your skin.
If you use the hammock for a time being, then just keep it unused for a time. It creates a musty odor that needs to be showered.
Conclusion
You put your blood, sweat, and tears to get the perfect yoga position. But this blood, sweat, and tears have a habit to settle down in your beautiful yoga hammock. That's why you need a regular basis schedule and the proper way to wash them.
Keeping your yoga silks clean can save your money too. The aerial silk will last longer. Before cleansing, check that if there is any stain that needs extra care. If you stored the silk for a long time, you don't need to wash them. Just hang in the air and then use it. I guess you have no more confusion about how to wash and dry aerial silks. With the proper process, you can wash your precious silk and fly with it more time!