Does your brand new yoga swing come in use? If you are confused about how to start with yoga swing then this article is specifically for you
There are lots of aerial yoga swing poses available. But, most of the people can begin with some. Today, I am here with 11 best yoga swing poses for beginners and professionals. So keep reading the article and learn about the yoga swing positions.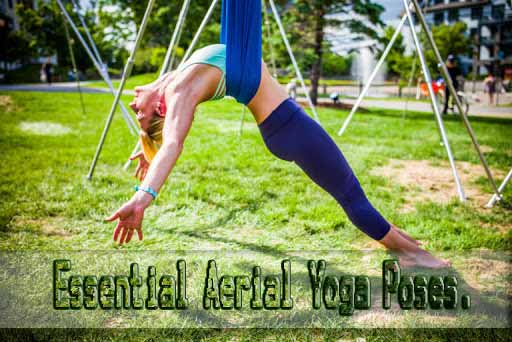 11 Essentials Aerial Yoga Poses
1. One-Legged King Pigeon Pose
This pose allows you to puff out your chest with a deep back backbend. You must look like a pigeon. But it may be difficult for most of us. A hammock will surely help to balance yourself and relax the back leg. You will also get a natural curve having a swing. It improves the postures and relaxes you
2. Chair in the Cross Position
Another easy aerial yoga swing pose is this one. But make sure a quality yoga swing. You have to get a lower sitting position. Get spinal decompression and relieves sciatica and lower back pain.
3. Layback in the Cross Position
Spread your hand in 2 sides and open your heart deeply. You have open the chest, lungs, shoulder, and abdomen as widely as possible. It improves your posture and relieves stress. It also helps in stimulating the nervous system.
4. Plank with the Hammock
Most of us are familiar with the plank. But, plank with swing is easier and beneficial. It improves balance and stability. You will feel the strength in core, legs, wrist, shoulder, arm, and spine it is helpful in releasing back pain. This posture must increase your confidence.
5. Star Inversion
You may feel this posture as a tough one. But, using an aerial hammock, you can perform it easily. Get a posture like a star by spreading your hands and leg. This posture has a huge number of benefits. It is one of the highly recommended yoga inversion swing poses.
It will help to get rid of anxiety, insomnia, and depression. Star inversion also works in increasing circulation and decreasing inflammation. Ultimately, it is a highly effective pose.
6. Low lunge in Wrist Wrap
Another awesome pose to relieve stress. It also improves hormone and makes us flexible. It is an easy pose. You need to widen your one leg and surely you will get stronger in your leg.
7. Shoulder Stretch in Wrist Wrap
This is a must practice dancer pose yoga swing. It makes the shoulders flexible and increases your balance. Most of the people perform this pose to release back pain. It also improves postures.
8. Aerial Splits Pose
A yoga swing is a must for this pose. This pose is a bit complex. You have to follow the guide to perform it. The main thing is to control your drop. Then try to stretch as wide as possible. You can't do it perfectly on the first day. But long practicing must make you flexible. The pose helps to reduce different types of pains. It is one of the best yoga swing poses for back pain.
9. Superman Pose
Yes, be a superman and it's your yoga exercise. The pose helps to increase the strength of the stomach, hand, and leg. You have to maintain the perfect position and stretch the lower back and stomach. Day by day you will be able to stretch wider.
10. Aerial Star Pose
Who are not comfortable with inverse star Pose, can try this first. It is one of the easiest beginner yoga swing poses. You don't need to put your head down to the ground. Just spread the legs and hands as wide as possible.
The pose improves spinal health and releases stress. Also, become flexible and mentally strong with this pose
11. Arrow Pose
One of the best yoga poses to meditate. It is surely a difficult task for the beginner. One Instruction, avoid looking at your feet while performing this pose.
The pose makes you mentally strong and improves the nervous system. Say goodbye to a bad mood now.
Conclusion
I have already discussed 11 popular yoga swing positions. This is a helpful suggestion for beginners and professional yogists. The list contains inversion, back pain-reducing, dance style, beginners, and other types of yoga swing poses.
Read out the poses in detail. You may be able to select the right yoga hammock poses for you.